I recently had the privilege of interviewing Dr Galen and Dr Aguirre on Hope to Recharge about DBT and practicing radical acceptance. Little did I realize that I would have a trial run at practicing it first-hand myself. Now, I know that radical acceptance may sound rather simple initially. If you're like me, you've probably heard from quite a few people about how you just need to 'accept it and move on.' But the actual practice of radical acceptance follows a greater course and includes so many intricate emotions, that it's often not something which we automatically arrive at by sheer will alone.
Let me let you in on what recently happened:
As many of you know and as I've shared quite a few times here, I got married 20 years ago. I come from Israel, while my husband Ari was born and raised in America. We decided to start our life together in America. Coming from a very close and tight-knit home, family has always meant so much to me. We really are a united unit and for this, I am so extremely grateful. When we got married, both Ari and I decided that for the holidays we'd travel to Israel to spend time with my family. My parents are very close with Ari too, having adopted him as another 'son' of theirs.
Four of my children were born either before, during or after the Jewish holidays and so for four years and during each of their births, we couldn't travel to Israel.
Despite the covid restrictions surrounding travel last year, we were blessed with an absolute miracle and allowed to travel to Israel. We even got to celebrate my son's Bar Mitzvah there and see my parents during the lock-down.
How did this impossibility happen for us?
Well, we were all so certain and believing that we'd actually end up going. There was no room for doubt or hesitation. It was a firm knowing that we'd end up going and we did! The day before we ended up leaving, we got the okay and it was more of a confirmation than a surprise because of the amount of faith we had about our trip, regardless of the circumstances surrounding covid at the time.
This year, things were a little different. There were still covid restrictions and while I can easily get into Israel, my children still had to apply. We went to the airport with our luggage and we couldn't get onto the plane. There were so many different hurdles preventing us from entering the country and I realized that God was communicating very clearly: 'No, It's not your time' to us.
My daughter was devastated. Being very close to her cousins in Israel, she was particularly looking forward to visiting them and when this didn't happen as planned, she felt the pangs of this disappointment. As her mother, I had to hold space for her devastation, while also expressing deep gratitude that we've been blessed with so many opportunities to travel to Israel over the years.
I usually call this the 'Rich man's problem' simply because of how small this problem actually was. We decided to treat my daughter and I taught her to accept it and to welcome in the enjoyment of the holiday itself. We practiced this shift together after Yom Kippur. For the duration of the entire week, I kept practicing gratitude for our continued blessings over the years. While I am pretty familiar with the tool of gratitude during both my ups and downs, my daughter is really great with practicing gratitude during the good moments in her life and honing in on the small blessings in life. Practicing gratitude when we really feel disappointed can feel a bit challenging at first and so I took her through the process of re-framing the incident from a 'long-term tragedy' to a 'small disappointment.' As I witnessed both myself and her move into greater radical acceptance, I recognized how truly accepting any situation at hand requires so much of awareness, a willingness to face the pain and disappointment and a lot of self-soothing.
Radical acceptance is a powerful tool which we should practice not just during major downfalls, but during the minor inconveniences of our lives as well. When we are able to radically accept the 'small,' we are also better able to accept the 'big.' It is a tool which allows us to make space for the various emotions to arise, while encouraging acceptance and compassion of what isn't meant to be.
I believe that the difference between us going to Israel last year versus this year was our energy and state of mind. Last year, our energy was a force and was so certain, while this year our energy was more skeptical and less inviting.
We had a beautiful first few days with many friends and my daughter was super happy and even looked at me yesterday and said, "It wasn't that bad after all. It was really nice."
I am grateful for the opportunity of equipping my daughter with the various skills of radical acceptance and gratitude. I am so grateful for the gift of family, where our bond never wavers no matter how close or far we may be from each other. I am also so grateful to be able to wash my eyes and heart with the words of 'Thank You. Thank You. Thank You.'
What a blessing both the ups and downs of life can be, when we look at it through the eyes of radical acceptance and gratitude.
-Matana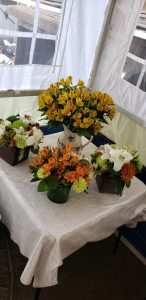 PICTURED LEFT: The Sukkah (Hut) we eat outside our home in for 8 days
---
Work 1 on 1 with Matana – With our 1 on 1 coaching program, you can work directly with Matana. Get a free 30-minute fitting tryout call to see if this is right for you. You do not have to walk through your mental health struggle alone. Because as always, together is better!
There is no substitute for a listening ear. Get Your Free 30 Minute, 1 on 1 Consultation Today.
https://hopetorecharge.com/1on1/
---
Sponsored by Betterhelp.com
Betterhelp.com is the world's leading provider of online therapy whose mission is to make professional counseling
accessible, affordable, and convenient, so that anyone who struggles with life's challenges can get help, anytime, anywhere.
Head here (https://Betterhelp.com/hopetorecharge) for 10% off your first month of services.
IMPORTANT: Be sure to click this link in order to get the 10% off code