Contribute $2
Today's episode of Hope to Recharge is sponsored by https://Betterhelp.com/hopetorecharge. 
Betterhelp.com is the world's leading provider of online therapy. Their mission is to make professional counseling accessible, affordable, and convenient, so anyone who struggles with life's challenges can get help, anytime, anywhere. As a BetterHelp affiliate, we may receive compensation from BetterHelp if you purchase products or services through the links provided.
Head to https://Betterhelp.com/hopetorecharge for 10% off your first month of services. IMPORTANT: Be sure to click this link in order to get the 10% off code
---
Sometimes life hits you with events that will literally bring you to your knees. Even if you have never struggled with mental health issues before, you can find yourself in a dark place very quickly and struggle with thoughts that might surprise you.
Today we are joined by my friend Christian Hampshire as he shares with us about his struggle with mental health and why he openly talks about his experience with suicidal ideation in hope to break the stigma around mental illness and help others to not feel alone.
Christain found himself a few years ago with a dark depression and considering taking his own life after losing his job and struggling with drinking. Although he was an avid athlete and accomplishing physical challenges that many of us could only dream of, he still was left wondering if his family would be better off without him.
Today he shares with us how he was able to pull himself out of that dark place and why he is now passionate about sharing his story in order to help others who may be struggling as well. We discuss what family members can do for their loved ones who are hurting and how we can find the "controlables" in our own lives to improve our mental health.
This is a powerful story that I cannot wait to share with you. If you or someone you love are struggling with thoughts of suicide please find the suicide helplines below. If you need additional support in your mental health journey we would also love for you to be a part of our private Facebook group Hope to Recharge. As always, Together is Better.
Mountain mentioned in today's conversion: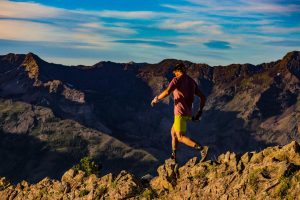 Interested in joining our monthly Mastermind?
Find out more info here! www.hopetorecharge.com/Mastermind
Topics Discussed:
The difference between "being happy" and "being satisfied"
Identifying what you can control to help your mental health
The importance  of helping our family members feel loved and supported
Suicide Hotlines:
USA: 1-800-273-8255
USA Crisis Text: 741-741
Canada: 1-833-456-4566
United Kingdom: 116-123
Australia: 13-11-14
International Suicide Hotlines: https://en.wikipedia.org/wiki/List_of_suicide_crisis_lines
Connect with us!
WAYS TO HELP THE PODCAST
______________________
Subscribe via iTunes and leave a review.  It costs nothing. https://podcasts.apple.com/us/podcast/hope-to-recharge/id1464788845
—————————————————————————
Spread the word via social media.   It costs nothing.
Our website is https://hopetorecharge.com/ our FB is https://www.facebook.com/groups/2079694042156503/ and our Instagram is https://www.instagram.com/matanajacobs/